Small best fully automatic high speed construction wood steel iron ss coil wire nail making manufacturing production machine reasonable price list for sale top manufacturers Germany low cost suppliers in india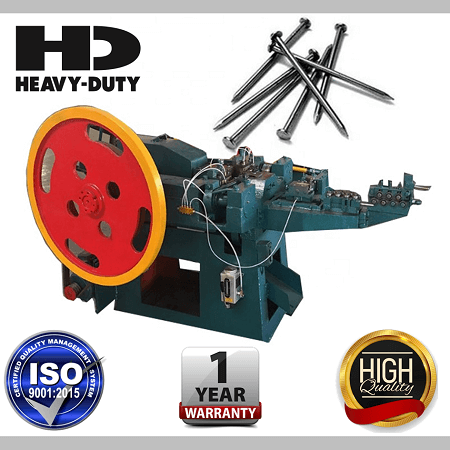 Model Yukti 213-215 small best fully automatic high speed construction wood steel iron ss coil wire nail making manufacturing production machine reasonable price list for sale top manufacturers Germany low cost suppliers in india
Model Yukti 213-215 small best fully automatic high speed construction wood steel iron ss coil wire nail making manufacturing production machine reasonable price list for sale top manufacturers Germany low cost suppliers in India. The new generation of series high efficient, low noise with super performance automatic nail making machine is mostly used for making various specifications steel nails This machine accepts piston plunger structure to ensure the high working speed low noise and fewer chance of impact characteristics high accuracy super power saving. Both scrap also new wire steel can be used as material for wire nail-making machines. Especially can make excellent quality nails and other special-shaped nails that are suitable for high-speed studs for auto welding machines and nail guns. Its Automatic nail-making machine is slightly modified. Steel nails are broadly used in construction, industry, and repair. Simple operation and low cost. All main parts are made of high-quality steel, such as shaft, cam, and gear. Nails of different sizes can be made, the length of nails can be accustomed on the machine also the diameter of nails needs to be fed by a winding wire of equivalent diameter. We provide our customers with a 1-year warranty also lifetime technical support is provided for free 365 days. We have a professional long history and strong technology in this also use a complete set of advanced equipment and technology With good performance novel styles. Process Of Nail Making Machine. step one: A wire Drawing Machine is used to draw the wire to the firepower we must Put the wire drawing then the Wire Drawing machine will clean the rust off the surface. Step two: wire nail-making machine is used to make nails. We were just required to pre-set the length of the wire nail and put the fine dia wire into the arrival of the wire nail-making machine. It will finish wire nail making fully automatic. Step three: wire iron coil nail polishing machine is used to make the nail enhancing. Need to add some paraffin oil also other materials to the machine when the polishing process is beginning. The steel wire nails can be broadly used in an industrial area, construction area, and repair area also other areas have strong demand in the Indian market. Gratify feel free to contact us for more information. Read all machine tech details click on the product catalog button.
Price 10,00,000 INR + GST 18% 1,80,000 INR Total Payable 11,80,000 INR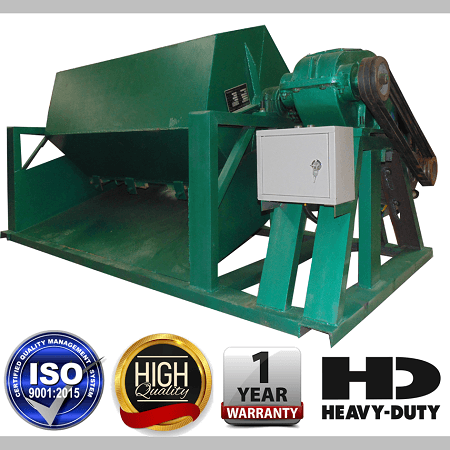 Model Yukti 216-217 top manufacturer electric wire nail polishing making machine.
This machine adopts plunger-type censure to ensure the features such as high speed, low noise, and less impact. Especially, it can be polishing the high quality of oil rivet wire nails and other shaped wire nails used for high-speed welding nails also nail guns. It is Auxiliary equipment for wire nail making machines. Easy to operate and use large loading capacity also wide application range. Optional variable frequency speed parameter function normal configuration is constant speed. It can clear shinning, brightening, nail output not easy to be rusty the wire nails finished high quality. We put Sawdust also paraffin together with wire nails in the polishing machine. It eliminates the dark cover also oil on the wire nails and covers them with business polish to make the nails bright also smooth on the surface and prevent rusting. Its advanced type, dismountable drum type, features fast wire nail loading and unloading. Yuktiraj Pvt Ltd Our Company is Registered a professional engaged in designing and exporting importing different kinds of wire nail polishing processing machinery. Our company is located in Maharashtra. Our company is the largest and strongest supplier of wire nail polishing machines in India. Factory-direct sales, best quality, first-class service 365 days. For more about this machine click on the product catalog button.
Price 4,50,000 INR + GST 18% 81,000 INR Total Payable 5,31,000 INR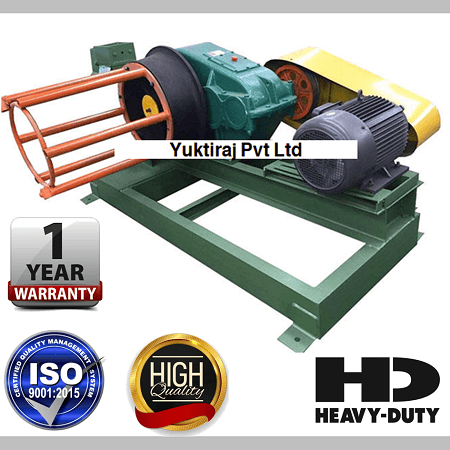 Model Yukti 218 One Block Single Drum Wire Drawing Machine For Nail Wire Drawing.
Single block steel wire drawing machine is usually known as the "steel iron wire drawing machine" It is used for drawing copper wire, Stainless steel wire, brass wire, Aluminum wire, Coppered Steel wire, etc. This is a single steel iron wire drawing machine. If the diameter of the wire is thick earlier it enters the nail-making machine, this machine can reduce the diameter of a wire, then the operator can get the reduced steel wire diameter from 6.5mm to 2.0mm. This Wire drawing machines belong to the first procedure of wire nails machines. Precise design, easy operation High speed also stability fitting your goal of efficiency Made from high-quality material, undergoing high abrasion- resistance also low deformation heat treatment process, the machine is tolerable with long time delicacy. Adopting electrical control system, it's easy for operation, of low noise also high efficiency. The latest processing technology is widely adapted to let us always adhere to the principle of nonstop quality improvement. With the precise debugging also assembly technology, our stringently quality control ensures our machines are in precious quality and stable performance. we help you successfully to open this kind of small factory we sell all type machine for this business. For more about this machine click on the product catalog page.
Price 4,00,000 INR + GST 18% 72,000 INR Total Payable 4,72,000 INR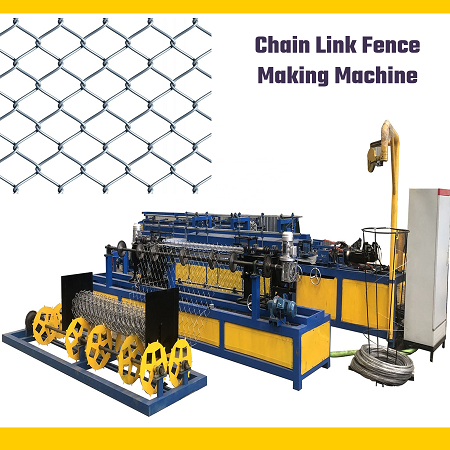 Chain Link Fencing Fence Machine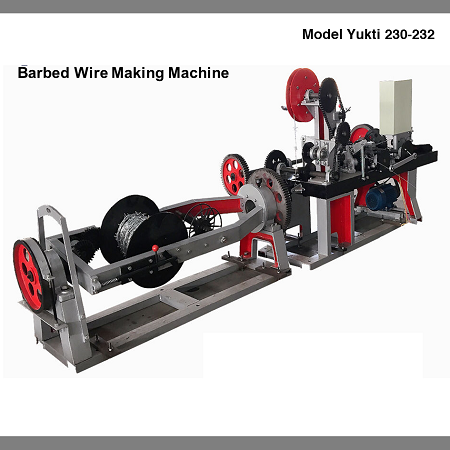 Automatic Barbed Wire Making Machine