Best Gi Welded Wire Netting Net Mesh Making Manufacturing Machine For Sell Reasonable Price All India Free Delivery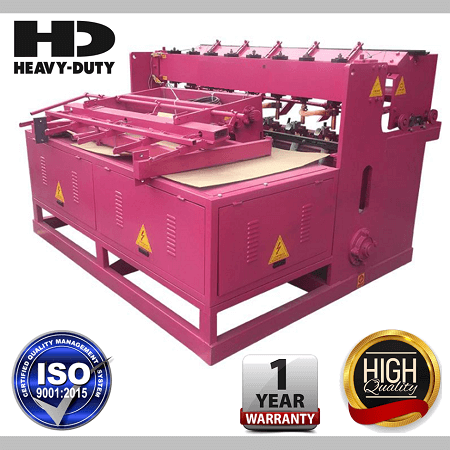 Model Yukti 171 Welded Iron Wire Net Mesh Making Manufacturing Machine
Wire mesh have strong demand in Indian market. Its really good business. We sell all type wire mesh machine just send your requirement to us. Welded wire mesh making machine adopts the threading device more convenient for manually threading wires saving times also effort. Adopts bottom electrode also threading device connected structure. the adjusting of line wire distance is more convents also. the top electrode also and bottom electrode adopts circulate water cooling treatment. The water cooling transformer system is produced by domestic professional manufacturer. it adopts program which can adjust the current also weld time. it is easy and simple to operate. It adopts PLC which front line control step motor pulling mesh device also the pulling mesh size is more accurate. The cross wire space is set though PLC also touch screen. the operator interfaces is more human friendly. 100% highest quality and perfect working. We offer 365 days 12x7 prompt supports. One year warranty. For more watch video. Need any help feel free to contact us. its Best Gi Welded Wire Net Mesh Making Manufacturing Machine cheap price.

Technical Details:-
Model:- Yukti 171. Control System:- Plc Control. Welding Spot:- 8 Pieces. Welding Speed:- 25-35t/Min. Mesh Width:- 1m. Mesh Length:- 3m. Wire Diameter:- 4-8mm. The Voltage:- 380v/50hz, 3-Phase. Motor Power:- 5.5kw. Gross Weight:-1800kgs. Over All Size:- 3000 X 2000 X 1600mm. Warranty:- One Year. Service:- Online. Warranty Provider:- Yuktiraj Pvt Ltd. Shipping:- All India Free.
Price:- 1497000 Rs + 18% Gst 269460 Rs Total Payable 1766460 Rs.
Tell Us Which Wire Mesh Machine You Are Looking