Cotton Ear Buds Swab Manufacturing Making Machine Low Cost Productions Best Price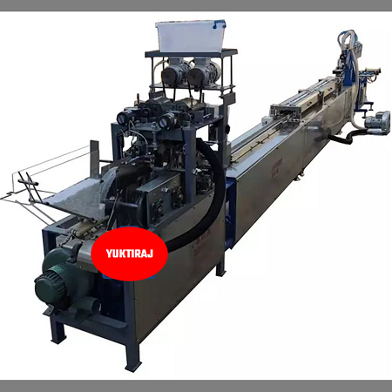 Model:- Yukti 286 Cotton Ear Buds Swab Manufacturing Making Machine Low Cost Productions Best Price.
Cotton ear buds manufacturing making machine is a newly designed machine based on Indian health standards. The advantages of a cotton swab ear buds manufacturing machine are reliable working, super high speed, high production rate high efficiency, fully automatic working machine, compact structure, easy operation simple to use, convenient adjustment, and power saving. This finished product is perfect and the quality achieves the national standard. The Cotton Swab buds manufacturing Machine adopted Computer PLC Process Control with infrared warm wind type drying technology. It is drying the cotton swab earbuds during the operation. Then, the vacuum inhaled manipulator is controlled by a microcomputer servo motor to feed the cotton ear buds swab to finish feeding cotton, forming cotton roll, crushing cotton, drying, packing, and other series of the production process. Save time and labor only 2 people to operate are ok improves the production efficiency manufacturer. This production line also can count cotton swab buds automatically when packing—avoiding inaccuracy and also unhealthy during the hand packing, etc. The cotton buds stick packing fixture will be different according to different packing models. Features: 1. Computer fully automatic counting device, invention capacity real-time monitoring operation. 2. The machine parts design is summarizing, easy to repair also maintained. 3. The cotton swab buds are uniform, smooth, also beautiful. 4. Fully Automatic packing, non-compulsory box or bag. 5. Five major parts stick entering unit, cotton entering unit, loosen cotton buds unit, feeding cotton buds unit, and cotton signing unit. 6. Simple structure in linear type. 7. Easy installation also maintenance. 8. Adopting advanced world famous brand components in electric parts, pneumatic parts, and operation parts. 9. High precision also steady servo motor to control the moving. 10. pollution-free running in a high automatization and intellectualization. YUKTIRAJ PVT LTD advantage: 1. excellent quality control department also well-trained skilled workers. 2. All machines will be tested well before delivery. 3. We are the senior leader already in India in the machinery line. 4. We have research and development faculty. 5. We offer one year warranty and all India free shipping. 6 our phone support is available 365 days non-stop. 7. On-time delivery. It's most excellent Cotton Ear Buds Swab Manufacturing Making Machine Low Cost Productions Best Price. Beware of duplicate machines. For more feel free to contact us click the product catalogs button for more info.
Technical Details
Model:- Yukti-229. Function:- Double Head Cotton Swab Making And Packing Machine. Production Speed:- About 800pcs/Min. Power Input (KW):- About 10kw. Voltage:- 380V/50hz. Overall Dimension:- L 8M × W 1M × H 1.6m. Packaging Film Material:- Opp / Pe. Made:- Pure Carbon Steel Coated Iron. Air Compressor And Air Storage:- Included Weight:- 1000kg. Warranty:- One Year T&C. Service:- Online Video Support. Shipping:- All India Free.
Price:- 2490000 INR + 18% GST 448200 INR Total Payable 2938200 INR